Nigeria's President, Muhammadu Buhari has expressed confidence that government would continue to run smoothly, even in his absence as he has left authority in able hands.
Here are four things Acting President, Yemi Osinbajo did on Monday:
1. Acting President Prof Yemi Osinbajo received a delegation, led by Governor of Borno state, Shettima Kasttim on a 'Thank You' visit over release of 82 Chibok Girls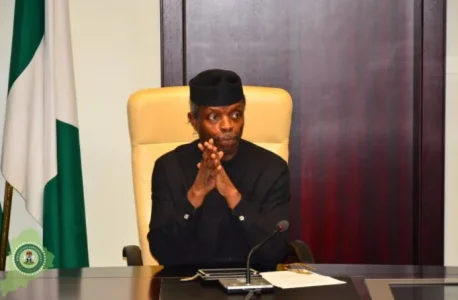 2. He presided over the 3rd Presidential Quarterly Business Forum at the State House Banquet Hall, Abuja
At the forum, Okechukwu Enelamah, Minister of Trade, Investment and Industry, Kemi Adeosun Minister of Finance, Sen. Udo Udo Udoma were also in attendance.
3. Acting President Osinbajo met with Ambassador Guy Feldman of The State of Isreal and Department Chief of Mission, Embassy of Israel, Nadav D. Goren, at the State House in Abuja.
4. Acting President Osinbajo congratulated President-Elect of France, Emmanuel Macron.