Nigerian naira closed flat on weekly trading as Central Bank of Nigeria, CBN on Monday adjusted by reviewing the naira-dollar rate for travelers, students and Medical fees from 376 to 360 and ordered to start honoring the new rate with immediate effect.
The currency opened trading on Monday morning at 390 to the dollar with a major boost on other two currencies at the parallel market.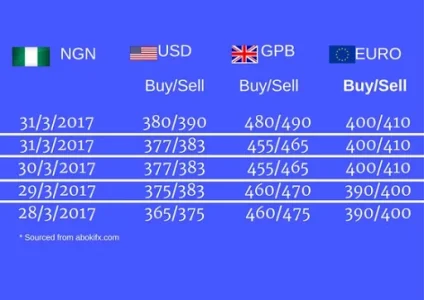 On Tuesday, the currency appreciated to 385 and 375 on Wednesday as Bureau de Change (BDCs) operators in Nigeria kicked over Central Bank of Nigeria's adjustment in forex policy.
CBN, plans to begin twice sale of forex to bureau de change operators in a bid to boost liquidity.
On Friday, the currency closed bearish for the third time in a row since the Central Bank of Nigeria, CBN, pegged forex rate for the Bureau De Change operators nationwide.
The currency dropped by 1.79 per cent to close at 390 against the United States dollar.