SAHARA REPORTERS is claiming that Senator Dino Melaye was named in a 2008 US State Department report on the murder of one Victor Obafaiye.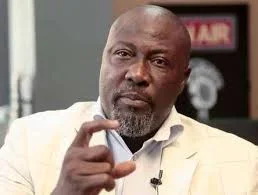 According to the media house, the American State Department wrote about Mr. Obafaiye's murder was issued on March 11, 2008 and written by the Bureau of Democracy, Human Rights and Labor Report. The report noted that Mr. Melaye was elected into the Federal House of Representatives on the platform of the Peoples Democratic Party (PDP), but the Action Congress of Nigeria (ACN) filed a legal challenge disputing his election. However, Mr. Obafaiye, said to be in possession of documents that might have shown that Mr. Melaye tampered with election results, was murdered before he could testify.
"On August 19, Victor Obafaiye, the principal witness for the Action Congress in the Kogi State Election Tribunal, was assassinated. Obafaiye was crucial to the case, as he was supposedly in possession of documents that would have served as evidence of election tampering by the PDP House of Assembly [sic] candidate, Dino Melaye," the report allegedly stated.