National Leader of the ruling All Progressive Congress (APC), Bola Ahmed Tinubu on Wednesday revealed that Acting President Yemi Osinbajo is a loyal team player who doesn't 'seek individual accolades'.
According to Tinubu, in a congratulatory message to Osinbajo on 60th birthday occasion, the attribute (loyal team player) was noticed when he was Lagos State Attorney General and Commissioner for Justice 1999–2007.
Tinubu in a statement released by his media office said: "we know that you will have little time to celebrate as your birthday comes at a momentous time this year.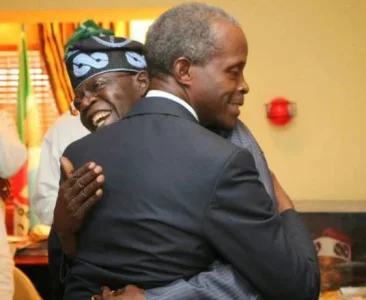 "As the humble and selfless person you are, you shall be busy promoting the policy agenda of your principal and our President Muhammadu Buhari.
"You have been a faithful and dedicated lieutenant to our president. We wish you nothing but the best and congratulate your loyal service to him and to our beloved country.
"From my experience working with you when you were the Attorney-General and Commissioner for Justice in Lagos State, I can say that you are a consummate team player who does not seek individual accolades but one, who without personal notoriety or fanfare, does his best to advance the policies and interests of the government in which you serve."