Nigerian naira on Thursday fell further at parallel market for the second consecutive day in a week after gaining over 10 per cent last week.
The currency dropped by 3 naira to 383 to the dollar, 10 naira to 410 to Euro at the black market segment.
However, it appreciated 1.2 per cent to close 465 to the Pound sterling.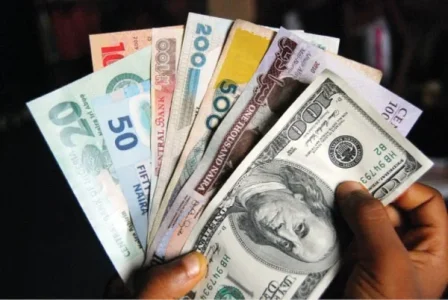 At the official market, the currency closed at 306.40 per dollar.
Meanwhile,tThe Central Bank of Nigeria, CBN has granted a national license to the Development Bank of Nigeria, DBN, to begin operations.
The license makes the DBN a Wholesale Development Finance Institution. As a wholesale bank, the DBN will lend wholesale to Microfinance Banks which will on-lend medium to long-term loans to MSMEs.
MSMEs contribute almost half of Nigeria's Gross Domestic Products (GDP) ( about 48.47 percent ) but have access to only about 5 percent of lending from Deposit Money Banks (DMBs).