Details of the dramatic battle between the Hausas and Yorubas in ancient city of Ile-Ife have emerged.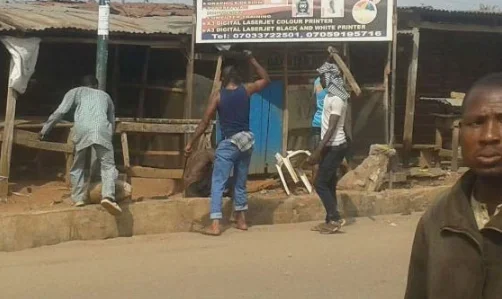 New Telegraph reports that the people organised themselves into two formidable groups to match each other strength for strength in the fierce battle which led to the killing and maiming of about 50 innocent people as well as destruction of property believed to worth several millions of naira.
At the battle ground around Sabo area, the Hausa employed arrows and bows, daggers, among others, in the battle while their opponents armed themselves with Dane guns, machetes and charms.
When New Telegraph correspondent visited the battle ground about 12:30p.m., the Ife warriors were patrolling the street and threatening not to retreat. They accused police of taking sides with the Hausa.
At Lagere area of Ile-Ife, some Yoruba youths, who were armed with machetes, knives and clubs allegedly attacked some shops, said to be owned by the Hausa. In retaliation, at Sabo in Ile-Ife, some Hausa youths also armed with machetes, knives and other dangerous weapons allegedly attacked shops belonging to Yoruba people.
It was gathered that some school children took refuge at the palace of the Ooni amidst radio broadcast that their parents should visit the palace for their wards. Also, Governor Rauf Aregbesola said he had caused deployment of heavy security forces to the scene of the crisis.
Two of the over 50 people reportedly killed were burnt alive while bonfires were also made by both sides. Unconfirmed reports claimed that two persons were beheaded. Several people sustained serious wounds while trying to flee the theatre of war.
Some of the victims were infants and youths. About 85 houses were said to have either been vandalised or torched while some vehicles were burnt.