Ekiti State Governor, AYo Fayose has described former President Olusegun Obasanjo as the father of 'do or die politics'.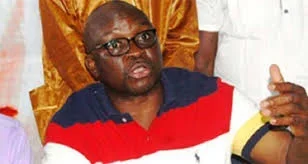 Fayose in an interview with Saturday Sun said, ''Unfortunately, Obasanjo does not appreciate the need for him to keep quiet. He does not have moral grounds to be saying all these things and that is why I come out every time to tell him that he does not represent what he claims to be.
''I want to recall in 2003 and 2006, Obasanjo who removed me from office in Ekiti at all cost for reasons best known to him is the same Obasanjo who removed so many governors from office. It is the same Obasanjo who trampled on Nigeria's constitution severally, because of his third term agenda.
''Why should the same man now come out and say leaders should not engage in do- or -die politics? Where is the moral standing of Obasanjo? You know, sometimes when people interview him and he does his grandstanding, I laugh when I watch him on the television.
''We recall the status of Obasanjo when they went to fetch him from the prison. This was a former President who would just wake up one day and say the governor of Anambra should be removed, because his boy wants to contest election in the state and he ignored an existing court order which later brought former governor Obi back to power and sacked Andy Uba after he had spent only 16 days as governor. That is do -or -die politics. What OBJ did to Rotimi Amaechi is in the annals of history too. He would be the one to insist who should be governor of this and that state.
''Recently, he was saying his generation has failed Nigeria and I say his generation did not fail Nigeria, it was him who failed Nigeria, because he has the all time opportunity to right the wrongs, but for his selfishness, he did not recognize late MKO Abiola as winner of the June 1993 presidential election. He said Abiola was not the Messiah being expected. He is the same one that would attack the Awujale of Ijebu land, and same one that would attack Prof Wole Soyinka, he never recognized Chief Obafemi Awolowo as the leader of Yoruba nation and that is why today, even despite holding federal office severally as the President of this nation, there is no one that would recognize him as a leader in the South-West.
''So, it is unfortunate, those listening to him are just are doing so in vain, because he doesn't have the stature, character and the voice.
''My opinion about him is that sometimes, people should take Obasanjo's statements with a pinch of salt and see him as a man who just likes to run his mouth. He does not deserve the honour. Look at somebody talking about corruption, when Obasanjo just returned from the prison, they should go and bring his picture and his asset, what was his worth when he was in prison and what happened after eight years when he looted the treasury.
''All those assets he now has in Obasanjo library and university and all that, are they products of his salary? So when they talk in this country we want to be able to listen and evaluate what they are talking about.
''Obasanjo should be behind the bars. The money that he used to bribe members of the National Assembly during his botched third term agenda, where did the money come from? Was it from his holier than thou presidency, or what?
''The man who served as President for eight years out of the PDP's 16 years in the country is now telling us the party is not good. The Yar'Adua we are talking about today who brought him? OBJ. Jonathan himself who brought him? OBJ. So, he is just running his mouth. We would continue to have problems if we listen to Obasanjo.
''Most of the other eminent Nigerians who have served as President of this country; are they behaving like Obasanjo?