Amina, an 18-year-old Boko Haram suicide bomber, who was arrested by men of Nigeria Security and Civil Defence Corps (NSCDC) has revealed why she embarked on the deadly mission.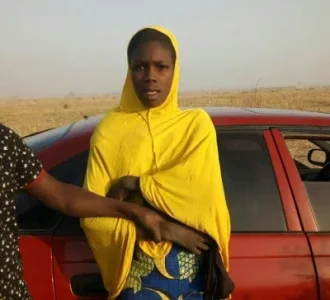 "They gave us N200 each which they said we should use to buy food for ourselves. It took us three days to come to Maiduguri on a motorcycle. We were directed by the sect members to detonate our explosives any where we saw any form of gathering.
"They said if we press the button, the bomb would explode and we will automatically go to heaven. I was scared, so, I told them that I could not detonate any explosive. So, they said if Zainab detonated her own, it would serve the purpose.
"On our way to Maiduguri, we encountered the military and they were shooting. I was very scared and the people that brought us ran away.
"I am from Imam Shekau's faction of Boko Haram, even though I have never seen Shekau. But I hear about him in Gobarawa," Amina said.
"I also am married to a Boko Haram Commander known as "Amir".
Amina also added that she was abducted two years ago by the sect members in Madagali, Adamawa, and taken to Sambisa forest; VANGUARD reports.