Aisha Yesufu, co-convener of the Bring Back Our Girls, BBOG, has called on President Muhammadu Buhari to remain in the United Kingdom as Acting President, Yemi Osinbajo is doing well.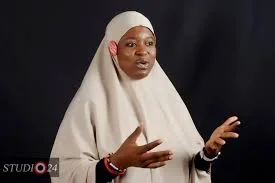 She made the call via her twitter handle. She said, "All President Buhari @MBuhari needed to do was to get the best people while he supervises and provides a vision using @ProfOsinbajo to work.
"Even my business I run it that way. Get the best people to do the work. I strategize and provide vision while chilling out lazily.
"I say it always @ProfOsinbajo was the person that won me over to the ticket.
"He hit the campaign trail even b4 GMB did.
"It is for me and that PMB is not putting his best foot forward is so irritating.
"PMB has never been known to do the work he delegates