Donald Trump should be blocked from making his planned state visit to the UK as long as his "Muslim ban" policy remains in place, Jeremy Corbyn has said.
The Labour leader said Theresa May should not be endorsing Mr Trump until it was clear his Government was "actually going to protect fundamental rights and freedoms and laws".
Ms May invited Mr Trump to Britain on behalf of the Queen when she visited him in Washington DC earlier this week. He accepted her invitation.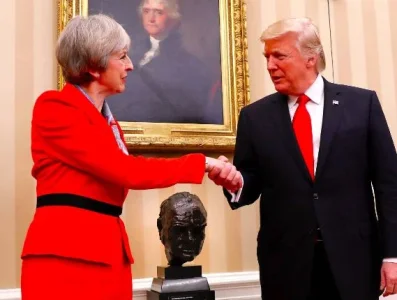 The Prime Minister refused to condemn the ban on Saturday when questioned by journalists. It affects British citizens who were born in Iraq, including Conservative MP Nadhim Zahawi, who says it will prevent him visiting his children, who are at university in the US.
After sustained criticism, in the early hours of Sunday morning Downing Street issued a statement saying Ms May was in fact opposed to the ban, though she has yet to personally comment on the matter.
Mr Corbyn told ITV1's Peston on Sunday programme: "It's slightly odd he should be invited so quickly and particularly in view of the statements that he's made. I suspect this visit is something that might find its way into the long grass.
- The Independent, UK