All Progressives Congress Senator, Comrade Shehu Sani representing Kaduna Central Senatorial District has slapped President Muhammadu Buhari-led federal government on the its anti-corruption war over the clearance of Babachir Lawal on the North east grass cutting contract.
Here are five words Senator Shehu Sani sent to the Presidency on the floor of the House:
1. "It is unfortunate that we have a political atmosphere where you have a saintly & angelic presidency & a devilish & evil society"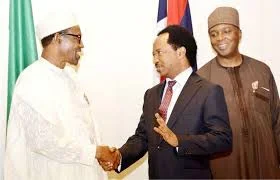 2. "I'll say this clearly, this letter is a funeral service for the anti-corruption fight...I stand by the report of that committee".
3. Sen. Sani says "It is shocking to me that such a letter can come from the presidency with such misinformation and outright distortions."
4. He says Buhari's letter absolving SGF is full of FALSEHOOD
5. Sen. Shehu Sani says Buhari's govt. uses insecticide to fight corruption in public BUT uses deodorant to fight corruption in the Presidency!