Senator Shehu Sani has kicked against President Muhammadu Buhari's decision to clear Babachir Lawal, secretary federal of the federation of all allegations leveled against him.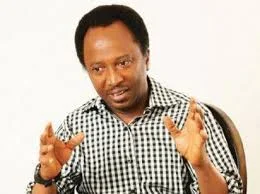 Speaking on the floor of the Senate, Senator Sani said, "Corruption in the Judiciary & others is treated with Insecticide while corruption in the government is treated with deodorant"
Sani stated that Babachir Lawal was invited before the committee and his secretary received the letter and acknowledged receipt. He also stated that three adverts appeared in three newspaper where Babachir Lawal and others connected were also invited.
Sani says 7 out of 9 senators signed his Committee's interim report, not 3. The Senator also described President Buhari's letter to the senate as ''full of falsehood''.
He concluded by saying he doesn't believe President Buhari wrote the letter, says SGF "and his minions in Presidency" could have written letter to Senate