The Oro Freedom Fighters (OFF) have written to President Muhammadu Buhari asking him to declare a Niger Delta Republic within the next 14 days.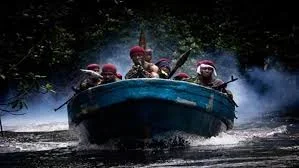 See the letter as obtained by Naij:
The OFF have count beyond patience on your refusal to embracing peace in Nigeria. May it interest you to know that Nigeria is not meant for one man, but for everyone including the generation yet unborn. It is of fact that without damages in Nigeria you will not seek for dialogue. Never pray for damages because it will take the lives of many of your loved ones.
From your military regime to the electoral, you posed to fight corruption and indiscipline whereas there is a whole good number of such at the peak starting from you. The looters money are not accountable, the citizens dead rate on starvation are innumerable. Though many may pretend to be silent, but OFF will not.
We don't stop you from training soldiers, but be rest assured that soldiers are born by women. Fourteen days is given to you for the announcing of the Niger Delta Republic. Mr President, a word is enough for a wise.