Ekiti State Governor, Ayo Fayose has stated that President Muhammadu Buhari has no plans on how to rescue the country from recession.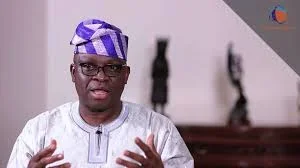 Fayose said Buhari's body language about Nigeria to foreign countries is worsening the country's reputation. he said: "The situation where the governor will go out of the country and say 'my people are thieves…"
Fayose said: "This government does not have economic plans that can stand the test of time. You oversee a population of 160 million Nigerians who are well read, scholars and you cannot find men like 50 to assist us. If any government cannot make a good impression in two years, when will they make it.
"We have set out to borrow $30 billion, our national reserves is about $24 billion dollars, so where will you pay back?
"The consequential effect of all these things is for years to come."