Halifa Sallah, spokesman to President Adama Barrow has debunked media reports claiming that Yahya Jammeh took out about $11m from the country's treasury before going on exile.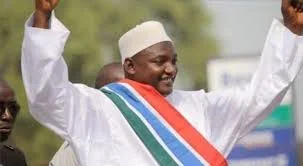 Speaking at a news conference in Banjul, Mr Sallah said:
''Allegation of theft etc cannot just be made by any member of an executive. It is not the domain of the executive. Allegation of anything that is a crime must be passed on to the inspector general of police and they are the competent authority that should conduct investigation of anything reported to them and eventually prefer charges against the accused who also must be presumed to be innocent until la trial takes place before we actually find them guilty of a crime.
''We are saying that this new government intends to be a civilised and democratic government which will abide by its instruments and institutions in order to fight any injustice. So I have told you without any ambiguity that the inspector general of police was asked to go to all public enterprises, all public institutions to examine their current state.
''What I am reporting to you is that as far as the Central Bank of the Gambia is concerned, those who are in charge of it have stated with clarity that not only the Central Bank is normal and functioning normally but that all the banks in the country are functioning normally. If other people have any allegation of whatever has been done I will advise them to hand it over to the inspector general of police for investigation."